Connect with BioMarin to learn more
Register to receive updates today
BioMarin is your partner in care—committed to providing you with the information and support you need throughout the treatment process.
Registering for updates helps you stay current on the latest news about CLN2 disease and Brineura® (cerliponase alfa).
By completing and submitting this form, you are indicating that you would like to receive more information related to Brineura and/or BioMarin's products and services. BioMarin will not sell, rent, or otherwise distribute your information outside of BioMarin and related third parties. BioMarin will only use the information you enter in accordance with its Privacy Policy.
BioMarin RareConnections™: Uncommon Support for Rare Disease
Beyond the therapeutic support provided to children with CLN2 disease, BioMarin is committed to supporting healthcare professionals, family members, and caregivers.
BioMarin RareConnections™ provides personalized support services for caregivers at no cost, including education on CLN2 disease and Brineura, and information about financial assistance programs.
To enroll in BioMarin RareConnections
™
, patients or their caregivers must sign and return the Patient Registration Forms. These forms can be obtained by contacting BioMarin RareConnections
™
or by
downloading them here >
Please contact BioMarin RareConnections
™
if you would like assistance with either of these steps.
Phone: 1-866-906-6100
Fax: 1-888-863-3361
Email:
support@biomarin-rareconnections.com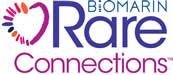 BioMarin: A leader in rare disease
BioMarin has a 20-year history as a pioneer in developing therapies for rare diseases—no patient population is too small
BioMarin has successfully developed a portfolio of 6 approved products, including 4 enzyme replacement therapies (ERTs)
With more than 2,200 employees in 52 countries, BioMarin researches, develops, and provides first-in- class and best-in-class therapies to those patients with serious unmet medical needs
BioMarin is recognized as an industry leader in bringing therapies to market quickly and for its ongoing investment in research and development

Resources for you and your patients
Download helpful materials, such as a Dosing and Administration Guide.