Connect with BioMarin to learn more
Register to receive updates today
BioMarin is your partner in care—committed to providing you with the information and support you need throughout the treatment process.
Registering for updates helps you stay current on the latest news about CLN2 disease and Brineura® (cerliponase alfa).
By completing and submitting this form, you are indicating that you would like to receive more information related to Brineura and/or BioMarin's products and services. BioMarin will not sell, rent, or otherwise distribute your information outside of BioMarin and related third parties. BioMarin will only use the information you enter in accordance with its Privacy Policy.
BioMarin RareConnections™: Uncommon Support for CLN2 Disease
Rare diseases like CLN2 disease can bring uncommon challenges. BioMarin RareConnections™ is here to help your patients meet these challenges with the resources and assistance they need.
When your patient's caregiver enrolls with BioMarin RareConnections, he or she will be connected with a dedicated and experienced Case Manager who can provide a wide array of product support services to help your patient.
Our Case Managers will provide guidance on how your patients can gain access to BRINEURA® (cerliponase alfa) by:
Conducting eligibility checks
Helping your patients understand types of insurance and financial assistance options
Identifying prior authorization requirements
Providing ongoing product support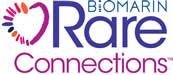 BioMarin: A leader in rare disease
BioMarin has a 20-year history as a pioneer in developing therapies for rare diseases—no patient population is too small
BioMarin has successfully developed a portfolio of 6 approved products, including 4 enzyme replacement therapies (ERTs)
With more than 3,000 employees in 52 countries, BioMarin researches, develops, and provides first-in- class and best-in-class therapies to those patients with serious unmet medical needs
BioMarin is recognized as an industry leader in bringing therapies to market quickly and for its ongoing investment in research and development

Resources for you and your patients
Download helpful materials, such as a Dosing and Administration Guide.